The Caisson is a carriage designed to carry a supply of ammunition. The limber of the gun carriage carrying the instruments for use with the piece and such ammunition as might be necessary for immediate use. All caissons are the same on the exterior. The ammunition boxes differed in their interior compartments according to the nature of the ammunition with which they were loaded.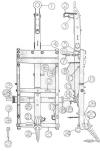 Must use credit card for online orders
otherwise mail your order with money order or personal check attached. If you mail your order please use the following formula for shipping:
UPS SHIPPING & HANDLING
MIN. CHG. $30.00 UP TO 25 LBS.
$1.00 FOR EACH ADDITIONAL LB.
(SEE WEIGHTS)
(Wis. Res. 5.5% State Tax.)
All online order will be shipped UPS. Online order rates are based on weight and are figured by UPS.